Momentum Sports Academy: Silver Athletes
Here are details of the elite athletes and their coach involved in the Momentum Sports Academy, looking to achieve exceptional results and qualify for national and international competitions.
Group Coach
Richard Holt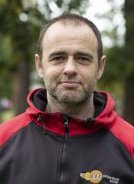 Primarily a coach these days (he's Head Coach for both Momentum Sports and Kingston and Poly AC, but still loving to compete, Richard has coached athletes in this group to British age group and British University (BUCS) titles and representative honours on regional, national and international levels, including European Junior Championships.
Richard was an English Schools Champion at 400m before going on to compete for Surrey, Sheffield University, the North and British Universities Teams at 400m hurdles as well as many years with the successful Blackheath and Bromley club. His biggest achievement was reaching the final of the GB World Championships Trials in 1995, whilst coaching himself and a group in Sheffield. Nowadays, he still competes and is four times British Champion at 400m hurdles in Masters age groups, ranking as high as 7th in the World in 2012. 2018 saw him compete at the World Master Championships in Malaga, narrowly missing out on a place in the final.
The Athletes
Nicole Kendall
Nicole started as a multi-eventing sprinter, who did some hurdles and pole vault and gradually progressed through 200m and 400m until she settled on her main event being the 400m hurdles.
As a junior she was a very fast 400m runner, getting selected for the Team GB relay team at the European Junior Championships and running a time of 54.83.
She continued with 400s, but started to dabble with 400m hurdles in 2017/18, before fully making the switch a year later. She ran her PB of 55.93 for 400m hurdles in 2021 and was looking back to her best in 2022 when she got injured when leading the Southern Championships by 15 metres. Her injury curtailed the 2022 season, but she showed more than enough in the year to show she can be a very strong contender again in 2023.
Group Sports Masseur
Vanessa Hammett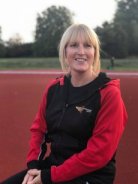 Vanessa was formerly a 62 second 400m hurdler who has been coaching with Momentum Sports for a number of years, leading our Junior Performance Middle Distance group. Back in 2009 she took the London School of Sports Massage's intensive training course and is now a very important part of the Momentum Academy team, as well as continuing to coach many of the younger stars of tomorrow in her group. All athletes in the Silver Academy get free massages with Vanessa on a regular basis.