Momentum Sports Company Information
Momentum Sports is a sports company focusing on all athletics events, with a primary focus on running.
Set up in 2000 we've grown year on year since then to the point where we are now one of the biggest set ups in the UK. We aim to provide a full range of services for athletes from professional, fully qualified coaching both in person and online, 100s of pages of free athletics information, sponsorship to elite athletes we coach, sports therapy, massage, nutrition and much more. These facilities are designed to help you get the most from your sport, all via one website.
Basically, we live, breathe and eat running!
Coaching
Our main training base is in Kingston-upon-Thames (KT1 3PB), although we do train at other venues locally as well. We have about 250 athletes training with us off literally all standards and ages (from 6 to - well quite a lot, it wouldn't be polite to say!) and from total beginners to international level. We are always happy to take on new athletes across all disciplines.
Online Coaching
The online coaching is interactive with sessions being set for each individual in training, who will report back on what they have achieved. These results will be used as the basis for the setting of the following training sessions. Whilst this may not be the same as having a coach constantly present at your sessions, it provides the individual access to a wealth of knowledge from a group of qualified professional athletes and coaches who are setting a schedule designed specifically for you.
Running Training Information
As well as the online coaching there is an encyclopaedia of information aimed at helping you to train more effectively. This is provided in the form of words, pictures and videos, with help on the following topics, amongst many others - stretching, weights, circuits, nutrition and race preparation in addition to dozens of pages on running training. We also include sections on all the kit you will need to make your running experience as good as it can be.
Sport Therapy and more
Throughout the site you'll find both access to our experts and advice from them in various fields, which support an athletes development, eg sports therapy, massage, strength and conditioning, nutrition and psychology.
The Team
The following coaches make up the senior coaching staff for Momentum Sports, all run groups at the track, with some also coaching athletes online.
Richard Holt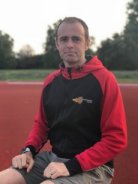 Richard Holt started Momentum Sports in 2000 and seen it grow from a "one man band" to a large team of coaches and athletes over the years. He is a 400m hurdler, who was a AAAs finalist in 1995 and multiple British Masters Champion and has been coaching athletes with a wide range of abilities since 1993. He is a fully qualified UK:Athletics coach in both sprints and endurance with experience of coaching all levels from total beginner to international level.
Richard is Head Coach of both Momentum Sports and Kingston & Poly Atheltics Club and has provided expert advice to various magazines eg Runners World and Mens Fitness, written a book and coached at a wide range of schemes and in many schools as well as running Momentum Sports for two decades.
Here's a brief interview with did with Richard to find out a bit more about his thoughts on Momentum Sports past and present.
Vanessa Hammett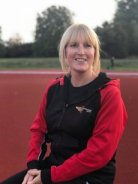 Vanessa was one of the top 400m hurdlers in the country when she was a junior athlete.
Having had a break from the sport, she returned to coach athletes about 15 years ago, particularly youngsters, and has brought a wealth of experience and enthausiasm to help the athletes in her charge - guiding them to many county titles and English Schools performances in that time.
She also coaches a good number of our online athletes, is a qualified sports masseur and is one of main lead coaches for Kestrel Club.
Having been part of the Momentum Sports team since the very early days, our success is down in no small part to her never ending support and dedication.


Pat Logan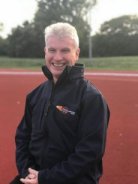 Again, Pat is both an outstanding athlete and coach.
He has been the M50 World Champion at both 100m and 200m as well as many other medals in masters athletics over the years.
He coaches a very strong group of junior sprinters at Momentum Sports, with many county champions and club records being broken by his squad - who have gone from strength to strength under his tutelage.
He has also been our main Kestrel Club coach for a number of years now, seeing the club develop to now having 6 sessions across the course of a week.


Phoebe Law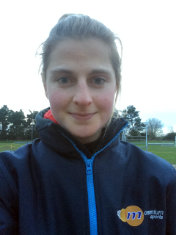 Phoebe has a huge number of accolades to her name. She has been British XC Champion, British U20 XC Champion and British U20 3000m Champion. She has represented her country at both senior and junior level at cross country and on the track.
She started her athletics with Richard Holt coaching her and has been a member of Kingston and Poly ever since, coaching for nearly a decade with both Kestrel Club and our more senior groups.
She is an invaluable member of our team because not only does she do lots of coaching for us, but she is also one of the key coaches working behind the scenes to ensure all our sessions run smoothly and that our online presence is everything it should be.
Mark Roberts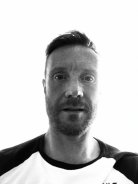 Momentum Sports multi-events squad is run by Mark Roberts. With over 30 years as an athlete and over 25 years as a speed and strength and conditioning coach , Mark brings a wealth of knowledge and experience for the multi events.
His work on the technical side of all the disciplines along with his physiology knowledge will ensure that the training is suitable and specific to each of his athletes.
Making sure that all his athletes improve by setting targets and achievable goals for each competitive season.


Nicky Atkins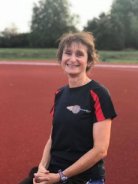 Started running in 2000, after training for a 5K fun run and has never looked back.
She is a key member of Kingston AC and Polytechnic Harriers competing on the track from 800 to 10,000m. She also competes over cross country (her favourite discipline - for Nicky it can never be too muddy!!) and on the road up to marathon distance and has competed at the top level as a Masters athlete in the UK.
She holds a UKA level 2 endurance coaching licence and as well as coaching online has a group of "more mature" athletes at Kingston & Polytechnic who compete over the longer distances.


Richard Vassall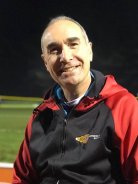 Another athlete turned coach, Richard ran under 3.50 for 1500m in his day and brings this experience to our novice juniors, who have progressed beyond the Kestrel Club at Kingston and Poly.
His dedicated group show what can be achieved by application with an experienced coach in a relaxed and fun atmosphere.
He is also a team manager for various cross-country teams and a great support to athletes at matches throughout the year.


Mary Dimbleby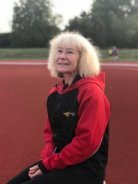 Mary was an athlete in the past and got back into the sport through her children, who were both successful athletes in their own right.
She is now building a reputation as an effective coach in her own right running our group for novice and intermediate level adult sprinters. This group has grown a lot in the last few years in no small part due to her expertise and ability to work well with her athletes.
She is also a key member of the Kingston and Poly set up having been a club membership secretary and team manager for a number of years.


Harry North
Harry is a relatively new coach, but comes to the role both from his university background in sports science and his experience as a 400m runner.
He has a great knowledge of the sports and has quickly built a strong rappour with his athletes and we are very excited about how they progress in the coming season.
Rhianna Reynolds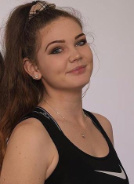 Rhianna has been coaching with us for about 6 years now, initially as a Kestrel Club coach, but now running her own group of jumpers.
She was a very successful jumper as a youngster, but has had a number of injury problems in recent years, which means she is now doing both coaching and competing.
She has competed in all four of the jumping events with PBs of 11.37 in the triple jump, 5.22 in the long jump, 1.80 in the pole vault and 1.59 in the high jump. She was a medalist in her age group for triple jump at both the England and South of England Championships in 2015.
She brings this experience of competition and also training with excellent coaches in the past, for example with John Shepherd, to her group and they benefit from all she's done in the sport.
Natasha Alfred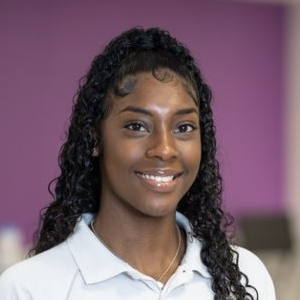 In addition to our coaches, we have sports therapy and massage on hand, provided by Natasha Alfred, which has proved to be very important in the reduction of both the numbers of injuries and also the shortening or rehab times when the do, unfortunately, occur. Natasha is both an experienced sports therapist and athlete, so is ideally placed to assist our athletes. Her degree was in sports rehab and she has been working with various groups of sports people ever since.
For full details, please see Sports Therapy and Massage Treatments
Other Coaches
As well as the dedicated groups above, we have many other coaches working with us (often also our better athletes training with us) and other people to thank - who have either coached in the past with us or help with the running of the Kestrel Club or other aspects of the website. Thanks to one and all.
The Kestrel coaches include Sam Ige, Max Perez-Diaz, Bryony Ross, Jessica Westley, Kira Holt, Lucy Atkins, George Rees and Zoe Shepherd amongst many others.
We'd also like to thank the following for their great help over the years Mae Thompson, John Shepherd, Tom Parry, Chris Hall, Gill Broderick, Lucy MacAlister, Nicole Kendall, Martin Airey, Owen Lewis, Humphrey Waddington, Liam Bulson, Linda Staines, Gary Staines, Nicky Mills, Keith Holt and Fiona Holt.
Finally, we have to thank all the athletes who have been involved with Momentum Sports over the years. Unbelieveable as it may seem, we've helped over 2000 athletes in the two decades we've been running, with over 300 still with us, lots of whom have been with us more than a decade. It's been a fun journey, which still has a long way to go!
Contact Details
Address:
Momentum Sports
116 The Street
Tongham
Farnham
Surrey
GU10 1AA
Phone Number: 01252 643166 or 07799 194069