Kestrel Club Progression
Visit our new website just for Kestrels at www.kestrelclub.co.uk. See you there!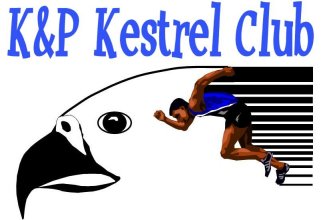 Here at Momentum Sports, we wish to ensure that each and every child are training at a level that they are both ready for and allow them to continue their development in Athletics. In order to achieve this we have set up a number of progression steps that will take athletes all the way from their first trial session in the Kestrels club hopefully right through to training and competing as senior athletes within our more advanced training groups on a Tuesday and Thursday night.
These stages of progression are based on a points system. It is necessarily a little complicated to ensure athletes progress through each stage as and when they are fully ready. By putting this system in we are aiming to make the progressions between groups easy to understand, fair to all athletes, and obvious enough so that all will know exactly what to expect when moving.
Points are achieved through the following ways:

1 point for each year of club athletics the athlete has done prior to membership of Kestrels (this includes clubs other than K&P).
1 point for each 3 months done in Kestrels and 0.25 points for each athletics match compete for Kingston & Poly in.
1 point for each year in school the athlete is in (e.g. Year 7 gains 7 points).
1 point if green badge standard achieved, 2 points for bronze badge standard achieved, 3 points for silver badge standard achieved and 4 points for gold badge standard achieved. 7 points if time achieved for Powerof10 rankings, 5/6 points for intermediate times, 8 points for finishing in top 300 from previous year performance, and 9 points for a top 100 performance.
High Flyers

Within the Kestrels club we have a High Flyers section whereby athletes will be invited to take part in a more advanced sessions, particularly within their preferred discipline(s) than they would normally be able to take part in with the rest of the Kestrel's athletes. In order to take part in this group athlete need to have achieved 17 points on the above basis. Athletes will then take part in all the High Flyers sessions available, unless it is an event group they'd really rather not do - in which case they'll train with the rest of the Kestrels on that day.
As an example, a child in year 8, who has done 15 months of Kestrels and a previous year of club athletics elsewhere, with a silver badge standard would have a total of 17 points and be ready to become a high flyer.
Progression beyond Kestrels

In order to progress through to the more senior and advanced training groups on a Tuesday and Thursday evening, athletes need to achieve 29 points. However at this stage, athletes will get 2 points for every school year they are currently in (e.g. Year 7 gains 14 points). The reason for this is very simple, it is to advance the older athletes, who are more likely to cope well with more serious training, to progress quickly if they haven't been members of Kestrels for a long time.
It should also be noted that athletes do not have to progress the second they achieve the correct number of points. If they are happy at the stage they are at then they will not be forced to progress to the next level.
When an athlete is invited to join an evening group, they will be given access to all the possible groups which they could move to. This would see them get a specific coach assigned to them - who will personally try to help them achieve the best they can. This is not set in stone and if for any reason the athlete wishes to change group or events they do, that is fine - they just need to let Richard Holt or Pat Logan know and they'll assist in helping with options at this stage.
Some athletes like doing more than one event, the specific requirements of these athletes can be discussed at any stage and there is plenty of scope for assistance from other coaches at Kingsmeadow to receive help in events which are their main ones or are ones that their primary coach isn't expert in (for example, a lot of athletes who primarily sprint like to jump and hurdle - but not all sprint coaches can cover these events - but we can assist in ensuring athletes can do them so.). Again if you have any queries, please just ask.

If you have any queries about the Kestrels progression then please get in touch: patlogan@momentumsports.co.uk.